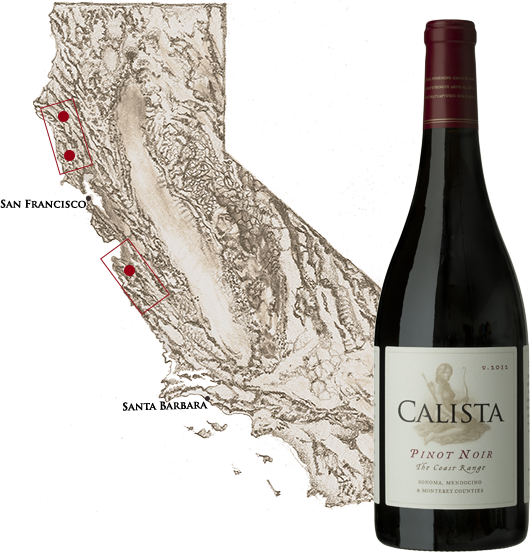 The Bow
The Santa Lucia Highlands sit atop the Salinian Block, which broke off the Sierra Nevada Mountains during the creation and movement of the San Andreas Fault. Thus, the soil found in the Santa Lucia Highlands is well draining and granitic with sandy loam mixed in. This fruit produces rich voluptuous dark berry fruit flavors that contribute body and richness to the blend. We view this as Calista's Bow giving the Coastal Range blend strength.
The Santa Lucia Highlands south east orientation funnels cool wind off Monterey Bay and into the Salinas Valley. This cooling fog allows for premier ripening conditions and yields long hang time for the fruit. This extended ripening period produces complex flavors inside the grapes.
Since the Santa Lucia Highlands produce distinct and powerful Pinot Noirs, it is no surprise we turned here in search of body and enticing dark fruit characteristics for our Coastal Range Pinot Noir. We refer to the qualities the Santa Lucia Highlands fruit imbues on our wine as Calista's Bow, due to their ability to give strengths and structure to our blend.
Planted on the eastern facing terraces of the Santa Lucia mountain range, this growing region enjoys the morning and afternoon sunshine. However, it is the Santa Lucia Highlands southeast orientation that funnels cool wind off Monterey Bay and into the Salinas Valley creating the needed cooling for iconic Pinot Noir. The cooler temperatures combined with the sandy loam soils produce rich voluptuous dark berry flavors that frame our Coastal Range Pinot Noir.